If you have stubborn clogs in your drains or want to keep your sewer lines in excellent shape, you should know about hydro-jetting. As a premier service for drain cleaning and clog removal, most homeowners will likely need this service at some point. Before you sign up for your hydro-jetting services, learn more about what it is and the answers to some of the most frequently asked questions about it. 
What Is Hydro-Jetting?
Sometimes called water-jetting, hydro-jetting is a plumbing service that employs highly pressured jets of water to clear out debris, blockages, roots, or anything else that could be blocking your plumbing lines. The primary tool used in this service is a hydro jet, which features a motor to pressurize the water, a nozzle, a tank of water, and a hose. You can think of the device as a power washer designed to clean the interior of drains and pipes. 
During hydro-jetting, a trained plumber will insert the hydro jet into a sewer line's cleanout, which is an opening into the line. Next, the plumber will spray a highly-pressurized stream of water into your line. As the water stream shoots through the sewage line, it will clear any clogs or debris in the line's drainage path. Once the service is completed, the line should be completely clear of any obstructions that could prevent proper drainage. 
What Is Hydro-Jetting Used For?
Due to its ability to clear lines, hydro-jetting is regularly used to clean out homeowners' sewage lines. If you have a clogged drain, hydro-jetting is a perfect solution to clear it out. Besides standard clogs, hydro-jetting can also take care of root growth in your drains. 
You can also use hydro-jetting as a preventative measure to remove smaller obstructions before they turn into full-blown clogs. Preventative hydro-jetting services can also save you money over time, as they'll keep your pipes in better shape and more efficient, reducing your water bills and the risk of needing an expensive pipe repair.
How Much Pressure Is Used for Hydro-Jetting?
While hydro-jetting water pressure can vary, most residential hydro-jets use about 4000 pounds per square inch of pressure to clean out clogs. However, if a hydro-jet is used for a more difficult commercial job, the pressure may be higher. 
Is Hydro-Jetting Better Than Snake Drain Cleaning?
One common alternative drain cleaning method is to use a "snake," which is a long cable featuring small blades. A plumber will insert this snake into your drains to clean out clogs. As you might expect, using a snake for drain cleaning will take longer. It will also only clean one line at a time, while hydro-jetting can clean out all your drains at once. Due to the increased efficiency of hydro-jetting, it's typically the better option. 
Can Hydro-Jetting Damage Your Pipes?
Normally, hydro-jetting will not damage your drains if a trained professional operates the hydro-jet, as they'll know how to operate it safely. Most homes also use plastic pipes that are strong enough to withstand hydro-jetting. However, cast iron pipes that are usually found in older homes could be damaged if the pipes are already corroded.
Since corroded pipes could be damaged by hydro-jets, any good plumber will inspect your pipes beforehand to ensure they're not at risk of damage. Additionally, when they do find that your old cast iron pipes are corroding, it might be time for trenchless sewer repair services to prevent future damage to your pipes and sewage system.
Can Homeowners Use a Hydro-Jet On Their Own?
Since hydro-jetting is so effective at removing clogs, you might be tempted to use a hydro-jet on your own. However, even if you can find a store to sell you one, you shouldn't try to use one without the proper training. Misuse of a hydro-jet can end up causing injuries and could significantly harm your plumbing system. As a result, you'll want to hire an expert plumber to perform any hydro–jetting services.
Choose Boyd Plumbing and Drain for Hydro-Jetting Services in Greater Sacramento
If you're looking for drain cleaning near you in Rancho Cordova or the greater Sacramento area, Boyd's hydro-jetting services have you covered. Our expert plumbers regularly use hydro-jets to clean out our clients' drains and remove even the most stubborn clogs. When a drain cleaning can't wait, we also offer 24/7 emergency drain cleaning services. Alongside our hydro-jetting and drain-cleaning services, we provide trenchless sewer repair and replacement services when your pipes are past the point of repair. 
Learn more about our hydro-jetting services and coupons today. If you have any questions or want to schedule an appointment, please call us at 916-710-8070 or make an appointment here online. 
A good working drainage system is a sign of a happy home. When the drains are clogged or have a crack, it could break all hell loose. Your daily routine could get disturbed, adding hours to your chores. You may choose to save on your utility bills and do the cleaning yourself, but it won't be that easy. A professional drain cleaning in Sacramento advises its customers to let the experts take care of the drain while you relax. What are the qualities of a professional drain cleaner, and what makes them experts?
1. They are Experienced
A professional team of experts in drain cleaning in Sacramento says that experience is the key in this field. If a company doesn't qualify these criteria, you should not hire them. Only a real professional would know how to handle a drainage problem. Maybe look at their website and give them a call to know about their experience.
2. They Should do a Video Inspection
A highly professional drain cleaning company uses a camera to detect a drainage problem. The camera is introduced into the drain and checked for possible leakage, cracks and other issues. Only the best technology is used by a good drainage cleaning service. If they use a video camera and other high-tech gadgets, you know that they are serious about their services. You should also make sure they can operate the devices and don't just use it to hire their services.
3. Trained and Licensed
The drain cleaning service who send their team member to inspect your drainage should be well trained and know what he is doing. The company should also have licensed and certified documents to show its authenticity. Cleaning a drain is not an easy job, and only a trained team member can do it well.
4. Takes Safety Precautions
A drain cleaning company should only send their most responsible team member. He should take safety precautions and wear the necessary safety gear. A drain is a very sensitive system of the house, and one mistake could do permanent damage. Sometimes a simple drain job could be dangerous when dealing with a water heater drainage pipe. A serious drainage service company will make sure all the safety measures are followed very well.
5. Should be Punctual
A professional is always punctual and finishes the job with the utmost care. If a team member arrives on time, it also means that he is committed and that he is not doing his job just for the sake of it. But, if he arrives late, he will rush the job, and the results may not be that great. So, when you are hiring, you should talk to the manager first and discuss this with him as well.
6. Good Listener
A professional drain cleaning worker should have attention to detail and be a good listener. If he doesn't pay attention to your problem, how is he going to fix it?
He should be able to grasp the problem and ask questions if required.
Drains are a part and parcel of any home. They carry away the unwanted water, dirt, and other fluids that might come out of your house. But if your drain is clogged, then to resolve the problem, you'll need to call Lincoln plumbing service. You need to carefully select the right company to ensure that your drainage system is in professional hands. There are some important factors you need to look at when choosing a plumbing services provider.
Before picking a drain cleaning company, check whether it is a licensed and insured company. By hiring a company that is ensured, you can be sure that your property is safe from any type of damage. Ask the company about what kind of services they offer. Look for a company whose plumbers fixed clogged drains in the past. Make sure you hire a company that has good experience to resolve such problems efficiently. They should be skilled experts to do their job in a short period without compromising on quality.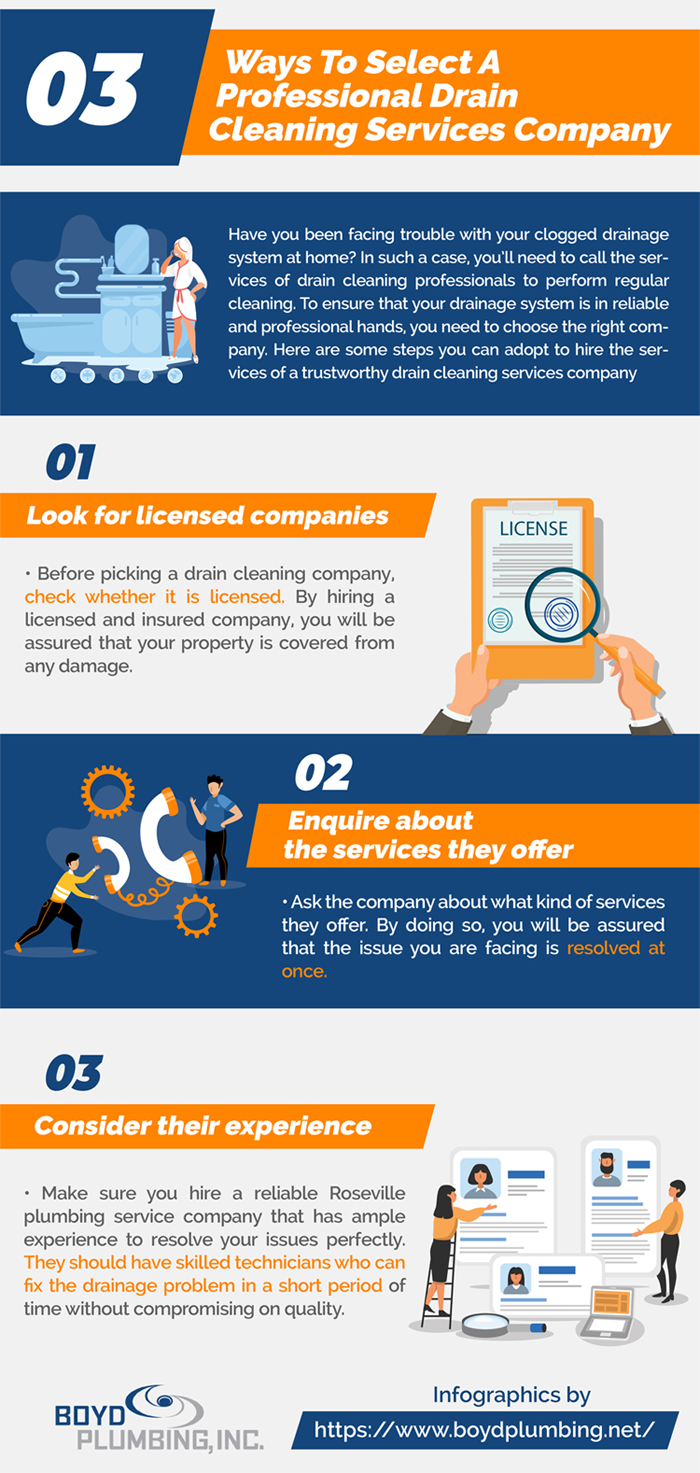 If you've ever been standing over your bathtub's drain, watching the stagnant water slowly drain down your pipes, you know how frustrating a clogged drain can be. A bad clog can quickly become a major problem as toilets and bathtubs get backed up: sooner or later you'll need to take action. If your first thought is to grab some chemicals and pour until it works, think again. What you really need is local Sacramento drain cleaning specialist that can properly identify the issue and provide you an effective resolution.
Here are some of the issues you might run into with the do-it-yourself approach:
Store bought chemicals: It says "cleans drains in no time" right on the box! What could go wrong right? Right? These solutions are great when built up gunk is what ails you, but what about when the problem is greater? Having a technician fully inspect your system with a camera is the only way you'll actually know if the solution you've used will properly address your issue. You may putting a bandage on a bullet wound while the real issue lurks in the shadows.
Using a snake or jetter without training: You just stick it down the drain and let it do it's thing right? Wrong. Very Wrong. Using a snake without the proper training will not only fail to solve the issue, you also run the real risk of causing major damage to your pipes. This won't only be expensive to fix, but will also cause collateral damage to your home. Never let anyone who isn't properly trained and certified in the equipment work in your home without supervision.
Hiring a second rate plumber: Everyone has "a guy" when it comes to home services, but you might want to think twice before you give him or her a call. Only a trained professional can properly assess this issues. You may end up with an overly larger bill for a very minor problem, and if they don't have the supplies, you might be waiting days before your issue can be fixed.
Your best bet is not to risk it. Call Boyd Plumbing today and you'll get a trained professional who will walk you through the issue, spell out your options, and address your issue right then there. Call today!
Ask a Sacramento Plumber:  How to Avoid Drain Clogs
We received a call from a customer who said his shower was draining slowly and he was unable to find the reason for the clog. He said he didn't want to work on the drain himself because he didn't want to take the risk of making the problem worse. That is a smart thing to do because you don't want to accidentally turn a small problem into a larger one.
A shower drain will usually be clogged due to soap scum, hair and other debris. If you remove the drain plug, you may be able to take out debris that collects on the drain flange with your fingers.
If this still doesn't work, you could try a drain cleaner and see if that removes the clog. If you're still unsuccessful, call one of our professionals at Boyd Plumbing!